If you were at GMM 2022 on Sept. 17, you are sure to remember the Pastor Blast from Joe Niverson, Director of Pastoral Care for Volunteers of America…
He started to tell us how one man's decision to speak the truth and do the word saved his life.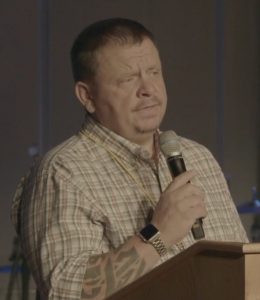 We were riveted! Nearing the end of his three-minute time limit, Joe told how he threw "Coop" to the floor in a fit of rage… and then went up to his room to pack, because he KNEW he was going to jail… Then – from the shadows of stage left, THE HOOK approached… The crowd cried out "LET HIM FINISH!" But there was to be no mercy from the relentless clock. Now, back by popular demand: turn up your volume and give Reverend Joe 3 minutes more, to tell you the REST of his story… https://youtu.be/cfhE-pULTWc
P.S., if you missed GMM2022, you can check out his original 9/17 Pastor Blast here: https://youtu.be/VBhIF9Wt61Q?t=7160 . The rest of the conference is indexed in our previous email, forwarded below.